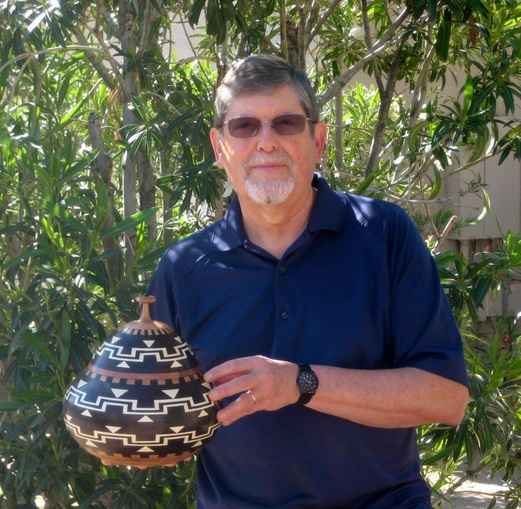 "I have been working with my hands and with tools for as long as I can remember. My interest in art and sculpture came later. As a child I would make things all the time and had my own toolbox. During high school I enjoyed all my shop and art classes and always was able to get A's, which was a nice balance to some of the grades in courses I didn't enjoy quite as much. These interests led me to a major in Industrial Arts Education at the University of Minnesota. While at the University, I focused my studies on the areas of graphic arts, woodworking, metalworking, and photography. I minored in Special Education with a specialty in developmental disabilities.
Upon graduation in 1968, the Special Education minor won out when I was faced with the real life decision of "making a living", but the ability to work with my hands and with tools continued to be a major interest and brought great satisfaction. In 1978, I visited an art exhibition that was to be a "life changing event" for me – the Calder's Universe Exhibition. I was absolutely captivated by Calder's work and his ingenious designs, whimsical imagination, and creative use of materials. That captivation has never subsided whether the medium is metal or as now, wood.
It was at that moment in 1978 that I decided to dedicate my creative energy and skill to making mobiles and stabiles and other "Sculpture in Motion". In 2012 my interest expanded to woodturning. I have made several hundred moving sculptures over the years and recently many wood turned vessels and other objects. I have exhibited at several galleries over the years and I am now showing at the
Nina Kuzina Gallery
in Nashville, Tennessee and the
Faust Gallery
in Scottsdale, Arizona as well as the new Faust Gallery in Santa Fe, New Mexico.
Being an artist and sculptor most of my time. I still do some work in the field which was earlier my full time career, working on behalf of people with developmental disabilities and children with behavioral health challenges and their families. I am extremely lucky in that I have two wonderful areas of interest and expertise that keep me extremely busy and keep the creative juices flowing."