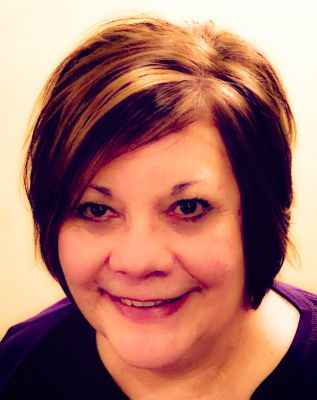 The work of abstract painter Linda Fischer, invites the viewer to come closer and see what is happening with the many layers of color, going in and out of focus and scraping away layers of paint. She asks the viewer to enjoy the feelings the piece brings to them and perhaps they have been there as well. She uses her early childhood fascination with windows and doors to make up stories of people who lived behind them, what they did there and what the rooms might have looked like. "As I grew up," Fischer remembers, "I was always trying to find a place to draw and think about all the colors of the day, I had a wonderful teacher in grade school that gave me an easel and a set of oil paints. She asked me to bring them school when they were complete and she offered encouraging words. My neighbor, Betty Jo Benedic gave me the drive and encouragement to pursue a college education and a degree. College took this fascination a bit further and I studied interior architecture. I had to plan and design the space with the given pattern set by the windows and doors. We also designed using a modular grid based on construction standards which I still refer to today in my paintings."
When she finally entered college she was very eager to learn from the best and she was fortunate to attend the University of Cincinnati College of Design, Art, Architecture and Planning. She received a BS in Design with a minor in Fine Art. The program was five years with co op sessions every other quarter. She remembers being able to work in New York and experience the city which is a main source for her paintings today. She was also influenced by trips to Chicago, Washington, Santa Fe and San Francisco and later to Italy and France.
"I still remember how the colors were different in Santa Fe and up in the mountains and I long to return. When someone sees my work I want them to be able to connect to my experiences," Fischer says, " to feel what I was feeling when I created the piece, which is the memories and the many layers of experiences that have led me to this point in my journey of over 30 years."
Fischer has worked in watercolor, handmade paper, pastel, in the past, and most recently with acrylic and encaustic with oil. Her style shows in all mediums and transitions well. When working in handmade paper, she made her own colored pulp from a combination of fibers and pigments that allowed deep rich colors after drying. A process of producing a black and white motif is present in each piece and she still uses this today as it reflects her philosophy of color and light, black being the total absence of light and white the presence of light reflecting all the colors of the spectrum. The focus on these details to tell the story are still present in her work today. Fischer has sold her work through galleries and at exhibitions both local and national. Her work has been purchased by corporations, hospitals and enlightens up numerous public and private collections.